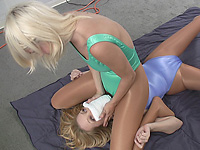 80's Ko Workout 1

6:16 - $5.99


Available in 1280 X 720 HD! (Standard def also available)

Here is a quick KO vid that we shot, another one of our Minivid series! Danielle and Sara are exercising and apparently are very competitive. The friendship breaks down very quickly as the two girls try to top each other, with KO's!

Models: Danielle Trixie, Sara Liz.