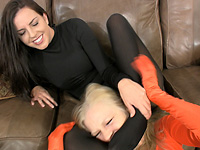 Lady C Returns Pt. 1

10:00 - $7.99


Available in 1280 X 720 HD! (Standard def also available)

Lady C is Back! A newbie heroine has tracked down Lady C, but can she TAKE her down? Lady C gets the upper foot on the young heroine and soon she pays a visit to the sandman. When she awakes, Lady C isn't done yet using her Freeze Blaster on her and toying with her prey before knocking her out once again! Will te new heroine become just another plaything for Lady C?

Models: Kobe Lee, Britney Brooks.