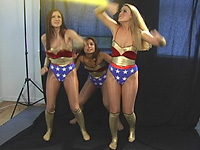 Wonder Force 1
Pt. 1

7:29 - $6.99

Standard Def Only 655 X 480 HD!

Virago is back in town and it's up to the Wonder Force to brin her down! The girls split up to look for Virago but its the youngest recruit (Tereza) that finds her first. Wanting to prove herself, she doesn't call for back up and soon Virago has her under her spell. The other girls come and find her, only to be ambushed by a room full of lasers! Virago puts the stunned girls out for good. What will happen?

This video, even though shot a while back, has been recut to take out meaningless footage and just get straight to the peril.

Models: Virago,Paris Kennedy, Tammy and Tereza.